<![if !vml]>
<![endif]>--------------------------------------------------
BIOGRAPHY OF THE REV. DR. DARRELL L. ARMSTRONG, D.Div. (Honorary), M.Div., Ed.S.-MFT,
--------------------------------------------------
Click Here to Download and Print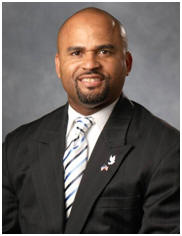 The Rev. Darrell LaRue Armstrong is only the 3rd Pastor of the Shiloh Baptist Church (Trenton, NJ) in the last 111 years! (ref. www.ShilohTrenton.org) Shiloh (and it's community development corporation) is a thriving
community of faith rooted in the African American worship tradition, with a budget of nearly $3M serving nearly 600 families in the Greater Trenton Community and around the world.
He is married to Melanie L. Pinkney, Esq., who serves as the Executive Director of the Division of Civil Rights and Affirmative Action for the NJ Department of Environmental Protection. (NJ-DEP). They are the parents of Amaris Kayla (10 years) and Daniel LaRue (9 years).
In addition to being a father, husband, and pastor, the Rev. Armstrong is a civic leader, a grassroots community organizer, and a child welfare/family strengthening advocate.

A native of (South Central) Los Angeles, CA, the Rev. Armstrong believes that learning is a life-long endeavor and a mutual process. His policy training at Stanford University (BA in Public Policy), theological training at Princeton Theological Seminary (M.Div.), and therapeutic/clinical training at The College of New Jersey (Ed.S. in marriage & family therapy) have uniquely prepared him to be a respected voice in the national and international child welfare/family strengthening communities. He sees his "global ministry" as working to make families stronger by equipping them with lessons of hope & resilience.
He is a certified master-trainer in NPCL's Fatherhood/Responsible Male Involvement and has obtained Cornell University's Family Development Credential. Most recently, he was certified in Child Sexual Assault by the "Enough Abuse Campaign," and in Infant and Pre-School Mental Health from the Youth Consultation Services' (YCS) Infant and Pre-School Mental Health Institute. He is a highly sought after motivational and inspirational speaker and has given keynote addresses at several national conferences. He is frequently invited to appear in national forums and media to address child welfare, family strengthening and prevention issues of all types (child abuse, domestic violence, crime, juvenile delinquency, etc...)
He also lectures on maternal/paternal child health issues as well as faith-based delivery of social, human and child welfare services. In 2001, he carried the Olympic Torch for the 2002 Winter Olympic Games in Salt Lake City, a run he dedicated to America's 600,000+ foster children! In 2005, he was featured on a national PBS Special entitled "Faith & Family in America," which discusses the churches role in family services. In 2009, he gave the opening prayer for the U. S. House of Representatives. And in May, 2010, the Rev. Armstrong made history when he was elected the first non-Presbyterian Trustee to Princeton Theological Seminary's Board of Trustees – the first in the school's nearly 200 year history! He is committed to ecumenical and inter-religious dialogue and teaching religious tolerance in a world that is so religiously intolerant.
Lastly, the Rev. Armstrong is the author of two books published by VirGenice Publishing, Inc.: ~"Snapshots of a Foster Child: Past, Present and Future," (a book chronicling his and his family's involvement in Los Angeles Child Protective Srvcs. & County Welfare Systems); ~"The Scent of Water: Inspirational Writings on Hope and Resilience." (a book addressing theological and practical meanings of "hope" & chronicles his time in Haiti during 2010 Earthquake);
______________________________________________________________________________
To invite the Rev. Armstrong to speak/present at your upcoming function or event, please call
609-240-1234 or email: Prevention@vzw.BlackBerry.net or log onto any of the following webs: